Bert Acheson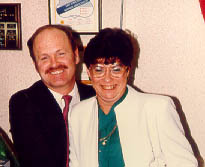 Bert Acheson passed away suddenly at age 61on December 5th, 2001
Many may remember the Acheson family (Bert, Sharon, Cathy, Kevin and Darren) they enjoyed many summers camping at Seymour Arm in the late 70's and 80's. Bert will always be remembered by us as a true gentleman, devoted husband and father. We will miss him. Anyone wishing to pass on condolences to the family can e-mail Sharon @ sacheson@telusplanet.net or write to 7116 - 139 Ave, Edmonton, Ab. T5C 2M2.
The Journal December 7 2001

ACHESON, Bert On Wednesday, December 5, 2001, John (Bert) Acheson of Edmonton passed away suddenly at the age of 61 years. He is survived by his loving wife, Sharon; children, Darren (Carol Peterson) of Minneapolis, Kevin (Rebecca) of Edmonton, and Cathy (Darrel Forrest) of Edmonton; three precious loving grandchildren, Karen (Renny), Spencer and Jordyn; and his brother, Brian (Pat) of Edmonton. He is predeceased by his parents, George and Marion; and sister, Lynn. Bert lived life actively. A devoted husband, father, grandfather and friend of many, Bert touched everyone with sincere and loving compassion. Funeral Service will be held on Saturday, December 8, 2001 at 10:00 a.m. at Evergreen Funeral Chapel, 16204 Fort Road, Edmonton. Interment will follow in Evergreen Memorial Gardens. In lieu of flowers, donations may be made to the Alzheimer Society, 11111 Jasper Avenue, Edmonton, Alberta T5K 0L4, Alberta Heart & Stroke Foundation, 10985-124 Street, Edmonton, Alberta T5M 9Z9, Multiple Sclerosis Society of Canada, 11203-70 Street, Edmonton, Alberta T5B 1T1, or to the Cross Cancer Institute, 11560 University Avenue, Edmonton, Alberta T5G 1Z2.To send condolences, visit www.evergreenmemorial.com Evergreen Funeral Chapel, Cemetery, and Cremation Center. Phone 472-9019.