old news
Drowning at Albas this summer

http://www.bclocalnews.com/bc_thompson_nicola/salmonarmobserver/news/101430589.html
We're just back from our annual Mothers day week to the cabin.
We have been making this trip for many years, meeting up with a group of Realtor friends that have been making the annual Mother's Day trip for over 20 years. They leave their wives at home and rent a houseboat. They tour 3 to 4 arms of the lake over a 5 day period and stay at least 2 nights at Seymour Arm. This year they gave up 1 day of their trip to help build our new dock. We often wonder how they can leave the wives for the past 20 years on Mothers Day. Since they all have been married to the same ladies for 30 years or more, they must be doing something right. Thanks to Larry, Al, Brian and Steve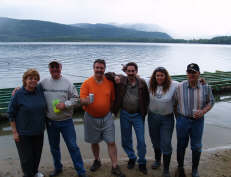 Sonja Ruhnke
Sonja is working in Denmark and won't be home for Christmas.


Hji
Gltedelig jul og Godt Nytar. Alt Gar Godt I Danmark.
Haber alt star vel til hos jer.

Things are going great half way around the world in Denmark. Having a great time with all my Danish friends and new guy. I'm now in Hanover Germany staying with my family for Christmas. I'm always trying to tell my friends here what life at the lake is like and they just dont understand.
Best
Sonja Ruhnke
New addition to Milligan Clan
Lucas was born Oct 20 To Kayla & Tim


Wedding in our family November 11 2000

Shawn & Anita Montgomery



Photo & text taken from Jan. 31/01 edition of Eagle Valley News, Sicamous, B.C.

Seymour Arm Student wins top Canadian Award
Eagle River Secondary School principal Rag Fogarty presented Tamzyn Bradley of Seymour Arm with the Governor General's Academic Medal. Tamzyn, who took her grade 12 at ERSS, achieved the highest average upon graduation. The Governor General's Academic Medal was first awarded in 1873 by the Earl of Dufferin, and has since become one of the most prestigious awards that a student in a Canadian educational institution may receive. The Governor General of Canada continues this tradition of encouraging scholarship across the nation and recognizing outstanding students. Congratulations, Tamzyn and parents, Lorne & Vivian Bradley!
Check out Calendar of Summer Event
Results from July Long weekend Horseshoe Tournament
There were 76 entries, a beer garden & concession stand
Men's Singles
Dorn
Men's Doubles
Dorn & Lester
Women's Singles
Lesley
Women's Dbles
Les & Wendy
Mixed Double's
Abby & Wendy
Kid's Singles
Jamie
Kids & Adults
Les & Chelsey
Seniors
Roy
Overall
Abby
Wedding @ Seymour Arm June 24, 2000
Congratulations to Karen & Client
Karen Fossen and her family are long time summer residents of Seymour Arm. Karen and Client Perlick held their wedding on the beach in front of their neighbor's cabin, George Brochu.
Click Here to View pictures
New Cabin going up in Gilman Bay June 24 2000
5 trucks brought concrete from Chase and Ferry Service hauled them across the lake. Lloyd Porteous had a busy day unloading the trucks with his backhoe.
Click Here to View pictures
Fall Fair September 11-12 Results
pictures High water june 20 99
Seadoo accident at Seymour Arm
at about 5:00 pm August 17. Word is that the 26 years old women died when another Seadoo run over the Seadoo she was riding The incident happened just west of the point .
update Aug 18 !999
Two teens drown at Celista Creek
Aug 17 2nd Body found
Aug 10
Results from August Long Week End
July 28 1999
2 nd Annual Swim across the lake took place July 27. 25 Swimmers and 11 safety boats. Many of the swimmers had some $400 in pledges. This event is just getting bigger every year. Weather was fantastic. Great warn up to The Sizzler weekend.

New pictures High water june 20 99
Mud Slide Takes Out Town Water Supply!
On Friday July 9th, at approximately 5:30 am a large mud slide came down Long Ridge above the town's dam site, breaking the Dam. The slide followed the creek right down to the lake, causing the closure of the road to the south shore, and shakey hollow (bug house bay) campsite. Ron Krease was busy clearing the mud, huge boulders and trees, at last count. The town is on limited water, until something can be done with the dam.
Alf Daniels in for Operation!
Alf Daniels of Daniels store has had an operation at Kamloops Hospital to replace a hip joint. Last heard everything went well, and Alf was enjoying all the attention from the nurses! He may be returning in the fall to have his other hip replaced.